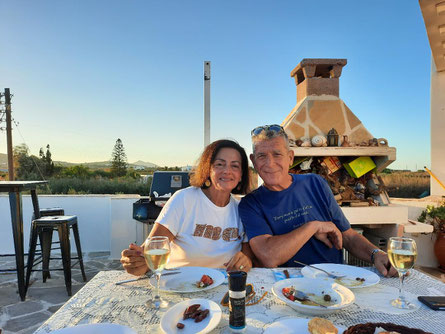 Butterflies approaching? Irenes View Villas on the gentle Cycladic island of Paros has the perfect landing spot for it. And even for helicopters! Freshly in love, honeymooners and romantic long-term duos will find a real dream setting up on the rock of Paroikia, surrounded by beautiful nature.
Eirini Stravrou and her husband George have put their heart and soul into creating their dream accommodation on their own. Ten villas of different sizes are enthroned on the spacious area. Created for individualists who demand comfort.
Highlight: Three of the villas have their own pools. The rentable villas impress with authenticity and a lot of privacy - more luxury is not possible!
Honeymoon under the stars
Paros has a special magic that captivates lovers. From Eirini Stavrous Location, couples can experience the sunset up close on their veranda. Or watch the fireball dive into the sea in the glazed pavilion. If it´s cold or when it rains, this serves as a panoramic hideaway. When the weather is nice, guests can use the attached bar and barbecue station. You can dance surrounded by the glittering atmosphere and moonshine.
Endless love
Surrounded by infinity, the heart expands. The charming Irenes View Villas offer limitless views of the indigo blue waves. The infinity feeling also relates to the outdoor pool, which enters into a symbiosis with the sea and seems to merge with it.
Extra: The pool is open 24 hours and illuminated at night.
Caribbean flair in Greece
The palm-fringed sandy beach of Agia Irini is located directly below the property. If you want to swap the pool for the beach, you will be rewarded after a short walk with the discovery of the place you are longing for in front of a breathtaking backdrop.
Highlight: Heart of Paros
You cannot hold onto happiness, beautiful moments are fleeting. But there is a souvenir that makes the honeymoon unforgettable: Unique glamorous moments from which there is no deduction. And a promise for eternity - with the "Heart of Paros" as a witness.
Special: The view of the legendary "Heart of Paros" from Irenes View Villas.
Culinary hint: 
Until End of September 2022 you can book a private sunset dinner at the flaming greek in Ambelas, Athanasios Skordoulis.
 THE FLAMING GREEK GARDEN BISTROT - Cafe in AMPELAS -Páros (business.site)
Getting to Paros:
You can reach Paros by flights going directly from Germany to Athens. Then you take a short connecting flight from Athens to Paros - in about 20 minutes you are on the beautiful island!
The Alternative: You take the ferry from Piraeus or Rafina to Paros.
Links:
http://www.irenesview-villas.gr
http://www.facebook.com/irenesviewvillasparos